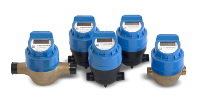 CZ4000 RI
The CZ4000 RI water meter Series comprises calibres 15 and 20 mm.
It combines the best volumetric mechanics with the most reliable and proven CONTAZARA electronics.
A state-of-the-art sensor detects the rotation of the volumetric chamber, so that all types of gear assemblies are eliminated, thus eliminating aging with the passage of time.
The signals picked up by the sensor are converted by the adaptation electronics through the rotation detection and safety system, being sent as digital signals to the microprocessor, where they are translated into statistical information of high value, allowing their reception with any present and future communication system.
The CZ4000 RI Series with integrated radio provides the necessary solution for implementation of integral Remote reading projects. Oriented to installations with individual meters, it incorporates electronic radio inside its casing, discreetly and protected from possible fraud. These meters are designed to allow remote reading by Walk-by or to be incorporated into intelligent networks.
The customer can choose the precision range, from R315 to R500.

FICHA CZ4000RI